Almendrado the Mexican Flag
Rita1652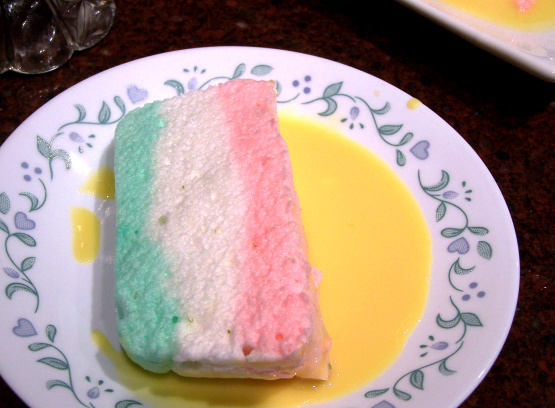 This is a Mexican dessert recipe also a Southwestern recipe the colors of the Mexican flag! Light and airy. Making this great after a heavy meal. Serve as is or on a bed of Custard Sauce for Almendrado using the egg yolks from the whites used in this recipe.

Don't know what my problem was with this, I so love your photo and obviously it works. But for me, I think I followed the directions as close as I could, but when the gelatin cooled it also hardened, meaning that there was no way it was going to mix with the egg whites, though I still tried. Even after sitting in the fridge for over 24 hours all I got was a runny mess of egg whites. I did taste them before trying to set and the taste is wonderful, and I so would have loved this for my tex mex dinner planned for company. But afraid I'll have to come up with something else. Maybe it was just my day for trouble as also had trouble with the custard sauce curdling, would still like to try this again if I can figure out the gelatin issue. It was so bad that I could not even take a photo to post, any suggestion would be appreciated
Prepare 8x4x2 loaf pan with non stick spray, set aside.
Add the gelatin to the cold water and stir. Place this mixture in a double boiler and heat until the gelatin dissolves. Remove from heat and let it cool at room temperature.
Beat the egg whites until lightly stiff. Gradually add the sugar and salt one tablespoon at a time while mixing. Then add the cooled gelatin, almond extract and lime zest. Mix until well combined. Do not add hot gelatin to the egg whites.
Divide the egg whites into three separate bowls. Tint one bowl green and one red (the red will really be pink when mixed with egg whites). Fold the food coloring in and mix well to distribute the color evenly.
Using a tablespoon, layer the green egg whites in the bottom of a glass dish.
You can also use a mold if you like. Then add the white layer and last the red layer. Spreading the layers with the back of a spoon works well.
Cover the dish with plastic wrap and chill in the refrigerator at least 3 hours to overnight.
To serve invert pudding on a serving platter. Garnish with custard sauce if desired.