Allergen Free/Gluten Free Bread
PaulaG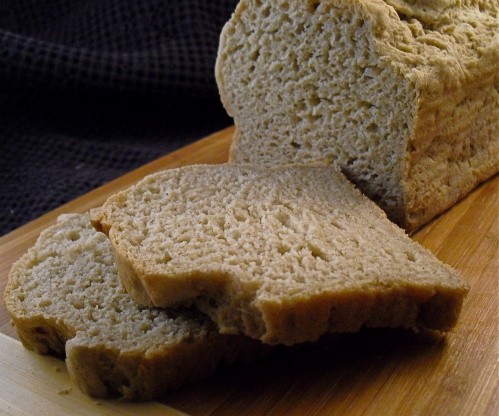 An absolutely amazing GF bread from http://glutenfreegoddess.blogspot.com Perfect taste and texture.
Top Review by PaulaG
The bread has a very nice texture. I did not have the millet flour so I King Arthur's Ancient Grains blend. This is a blend of millet, amaranth and sorghum. The bread baked 10 minutes more than the recipe called for. I did allow the bread to rest in the pan for 10 minutes before pouring it out to cool. The rest period helps to keep gluten-free bread from collapsing. Made for PAC Spring 2011.
1.Mix 1t honey and warm water. Water should feel warm-to-hot to the touch but not burning.
2. Add yeast and mix well. Let the mixture sit until it gets bubbly/frothy.
3. Mix all dry ingredients together.
4. When yeast liquid is frothy, add to dry ingredients.
5. Add olive oil, 2t honey, cider vinegar and mixed egg replacer (or eggs) and beat until a smooth batter forms. Dough should be along the consistency of cookie dough, not like wheat bread dough.
6. Scrape into a lightly oiled loaf pan and smooth with wet fingers or spatula.
7. Loosely cover pan.
8. Preheat over to 350 and put loaf pan on top of stove other other warm place to rise.
9. Let rise 20 minutes for rapid rise yeast and 30ish minutes for regular yeast.
10. Bake 35-45 minutes.
11. Cool on wire rack.