All Purpose Sun-Dried Tomato Sauce
Anke R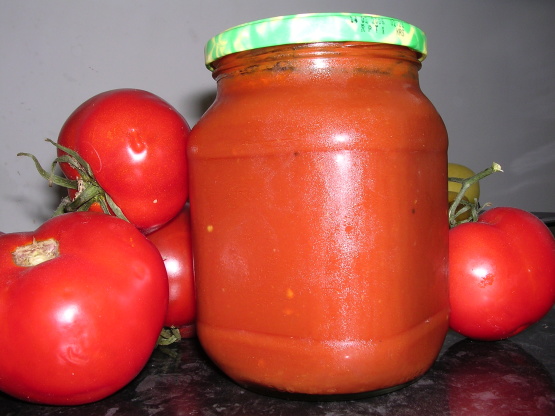 This is an adopted recipe. I am always on the lookout for freezer recipes so that's why I chose to add this one to my collection. Orignal introduction; "I discovered this recipe in a German home and living magazine as a pizza sauce. But I did have some leftover and soon discovered that you can easily use it as a basic pasta sauce or even as tomato soup adding a bit of cream. It freezes well, so feel free to multiply the ingredients. I usually pack a couple of jars when we go on vacation, so I don't have to fuss too much about dinner. These are the original ingredients, but I usually add more garlic and sun-dried tomatoes if they are easily available. In summer I add fresh basil."

I cooked a double batch of this up one night last week; followed the recipe except that I let it simmer on low about 90 minutes. Love the flavor that the sun-dried tomatoes impart. It tastes great, smells great and is so easy to make. I first used it on some ziti I was trying to use up, mixed with some mushrooms & peppers. Then over the weekend I used it as a base in a baked dish where I threw together potatoes, pepperoni, more mushrooms, topped w/ grated mozarella (had one serving & froze the rest). Yum--I can see so many ways I'm going to use this!
Sauté onions, garlic, chili and sun-dried tomatoes.
Add tomato paste and sugar and let sauté about 2 minutes.
Add tomatoes and broth, salt and cook for 45 minute in open saucepan, stirring occasionally.
blend and strain.