All Purpose Quick Spaghetti Sauce
read2mch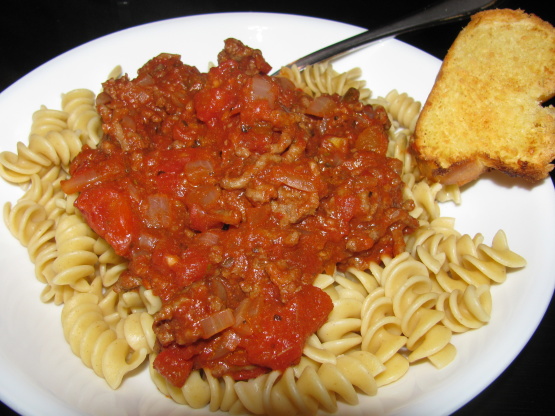 Can double, triple this recipe, very basic add to recipe, Freeze in portion servings. Add whatever is in the frige, carrot , green pepper, celery, mushrooms etc. Serve over any kind of noodles or rice and sprinkle with parmesan. Use as a base for lasagna, tacos, chili or casseroles, just generaly handy to have in the freezer.

Hurray for this quick and delicious spaghetti sauce! To make it vegan, I sauteed the onion and garlic in a bit of olive oil, and then added some TVP with the rest of the ingredients. I also used 1 T Italian Season rather than the individual herbs listed. Turned out tasty, and cooked as quickly as the noodles. Thanks for posting this! It was exactly what I needed.
In large heavy frypan, cook beef over medium heat until no longer pink, breaking up with a spoon.
Drain fat off through a colander, Wipe frypan with paper towel and return beef to frypan.
Stir in onion and garlic, cook until softened.
Stir in tomato paste, tomatoes, breaking with back of spoon, oregano, baqsil, thyme and pepper.
Bring to boil, reduce heat and simmer for 10 minutes, thin with water if desired.