All Purpose Ground Meat Mix
Pamela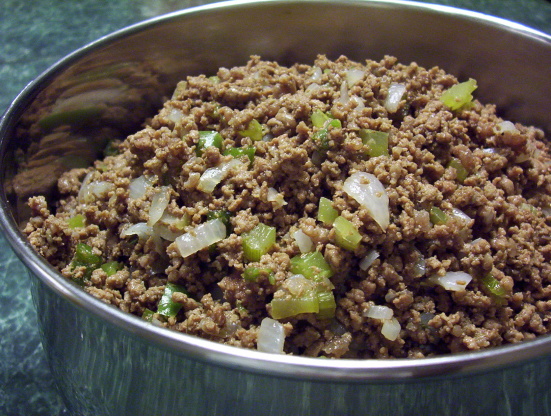 One of the easiest ways to save money on your family's grocery bill is by purchasing foods in bulk when they go on sale. When ground meat goes on sale, rather than just stocking up to store in the freezer "as is," many cooks find it helpful to prepare meat mixes for using later in their favorite family recipes. By preparing this recipe for All-Purpose Ground Meat Mix, you'll be ready to fix any number of tasty ground meat recipes without needing to brown the meat, onions and spices each time you cook. Not only will this technique save you money, it saves time too. The following recipe is from the book "Frozen Assets: How to Cook for a Day and Eat for a Month"

I did this is it worked out great! I didn't do the celery, because my husband hates it, but otherwise followed the recipes. I divided it up into 5 packages and just used 1 package for every lb. of ground beef called for in a recipe. I made tacos and burritos and 2 different casseroles and it was so much easier than having to fry the meat up first! Thanks for the great time saving idea Tish.
Brown meat in a large pot.
Drain.
Stir in celery, garlic, onion, green pepper, salt and pepper; cover and simmer about 10 minutes until vegetables are tender but not soft.
You can use this mixture immediately during your cooking session or freeze in two-cup portions for later use. (easy to put in ziplock bags flattened, pushing as much air out as possible).
SUGGESTED USES (be creative).
TACOS: Add one package taco seasoning to two cups All-Purpose Ground Meat Mix (follow package directions for amount of water).
Freeze.
To serve: thaw and heat taco mixture; prepare tacos as you would normally.
TACO POTATOES: Follow instructions for taco mixture (above), but serve the mixture over baked potatoes instead of tortillas or taco shells.
Top with grated cheese, diced tomatoes, sour cream, sliced green onions, sliced black olives and salsa.
EASY TACO SALADS: Follow instructions for taco mixture; place a layer of corn chips or tortilla chips on plate; spoon taco mixture over chips; add layer of shredded lettuce; add diced tomatoes, sliced green onions, sliced black olives, sour cream and salsa.
SLOPPY JOES: In a large skillet, place two cups Ground Meat Mix, one (10 3/4 ounce) can tomato soup, two tablespoons brown sugar, and one teaspoon prepared mustard.
Stir.
Cover and simmer ten minutes.
Serve ladled onto hamburger buns.
The All-Purpose Ground Meat Mix can also be used for: stuffed peppers, chili, spaghetti, and baked ziti. See my cookbook for additional ideas: [url=http://beta.recipezaar.com/cookbook.php?bookid=46486]Things to make with All Purpose Ground Beef Mix[/url].