All-purpose Glass, Counter and Bathroom Cleaner
I'm so picky about clean, streak-free windows and mirrors, and this stuff is great. With the ammonia and rubbing alcohol, this has disinfectant properties. I have spray bottles of this in each bathroom, great for a spritz and wipe of the sink and toilet each morning. I also have my toilet brush sitting in a crock with this for a quick swish.
1 cup rubbing alcohol
1 cup ammonia
1 tablespoon liquid dish soap (I use Dawn)
10 cups warm water
Directions
Combine ingredients in a large gallon jug.
Decant some into a spray bottle.
Label the bottle as"All-Purpose" cleaner.
Spray mixture on windows, countertops, stoves, mirrors, etc, and wipe away.
Most Helpful
I have been using this for a couple of days now. Tried it warm when it first was made and then the next day when the water was cool. It seems to be effective in all the areas I have tried it. It removed butter splatters from inside my microwave, left my silver stove top clean, and shined up the mirrors that I used it on. I cut the recipe in fourth, as I only had one spray bottle and no place to store the larger amount. I used lemon scented ammonia and apple scented dish detergent, the smell came out pleasant and mild - which pleased me as I do not care for the smell of ammonia. Thank you for sharing!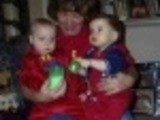 This is the best all-purpose cleaner ever! It is a cinch to make and lasts FOREVER! No streaks on any surfaces. No toxic chemicals. No obnoxious odors. Thank you, thank you, thank you.
Great all-purpose cleaner and cheap to make too. Better than a well-known brand . I've used it on mirrors, counters, and stainless steel on my range and refrig. It doesn't have an offensive odor once it's mixed up. I will definitely continue to use this.