KateL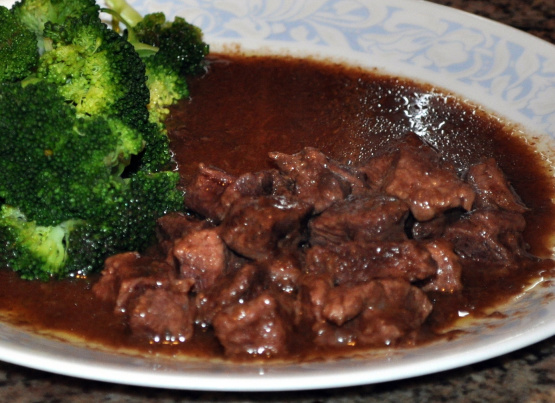 I make a large pot and freeze what we don't use into 2 cup size containers. Great with creamy mashed potatoe and steam vegetable and hubby likes to splash some worstershire sauce on too. In the last 30 minutes you could make some herbed dumplings to go with it. Use a cast iron casserole dish or stoneware or oven proof china don't use clear corningware. Instead of beef stock you can use 2 cups water and 2 teaspoons of beef granules (just check the salt count though) or 2 stock cubes. Do not include overnight marinade time. Left overs also make into a great meat pie, toasted sandwiches or shepherds pie. Can also be made in a crockpot or slow cooker but use 1/2 cup less stock and will take about 12 hours on slow. Please also note beef gravy is called gravy beef or shin beef here in Australia, it is the osso bucco cut without the bone and sliced thick (you just cut it up) and our skirt steak I think is the equivalent of flank steak in USA this cut helps to thicken the gravy which when it gets to the stage of thickening it will turn a glossy colour and loose that watery look. I have scaled this recipe up and down with very good success but need to adjust the cooking times accordingly eg my large cast iron pot will hold 6 kilos of meat but it then takes another 1 1/2 to 2 hours to cook. Olease also note our tablespoon is 20ml against the USA being 15ml, so add 1 teaspoon extra for each tablespoon is using USA measurements.

Top Review by KateL
Wonderful flavor unlike any other beef stew we have tried: the curry, ginger, mustard, and mixed spice (aka pumpkin pie spice in the US) reminded DH of a fall cake during roasting. I would call this Australian as it combines typical English spices with Asian spices. In the US, beef gravy is called beef shank (sometimes cross-cut beef shank), and I used well-trimmed center cut shank (although the Australian gravy cut is boneless). The skirt steak is the thin strip coating the ribs just behind brisket cut at the front legs, and is much more tender than flank steak that is toward the rear from the skirt (it also has more fat, just as the rib roast on the top of the animal has more fat than the loin cut behind it). My beef shank cost $4.99/pound, but that includes the cross section of the front leg bone and lots of silverskin and tendons that require trimming (but could go into the freezer to save for beef stock). My skirt steak was $16/pound, and that seemed costly. This meat casserole cries for potatoes and veggies to round out the meal, so don't forget the sides. The meat was very tender and passed DH's gristle test. In the US some say that skirt steak is hard to find because the Applebees restaurant chain corners the market. Next time we will try some chuck beef roast which can usually be found on sale and is easier to trim. Or I might buy stew meat to save time. We loved this combination of spices! Made for Please Review My Recipe tag game.
Put diced meat into casserole dish.
Mix plain flour, sugar, tomatoe sauce, malt vinegar, pepper, salt, ground ginger, dry mustard, curry powder and mixed spice in a bowl and mix well to combine, slowly add stock and whisk till smooth.
Pour over meat and leave overnight in the refrigerator if possible or at least 4 hours (I marinade in the pot I am cooking in and take it out of the fridge about 30 to 60 minutes before I put it in the oven as you cook the meat in the marinade).
Put in a 160 degree celsius fan forced oven and cook for 2 hours, stirring occasionally.