Redsie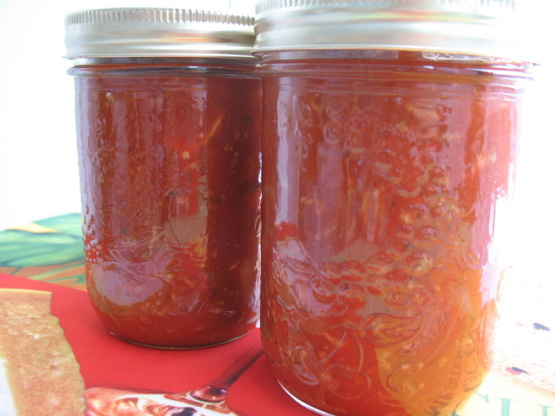 This is an easy, one-pot spaghetti that goes great with a salad and garlic bread. I got this recipe out of Southern Living Magazine, November 1998. Our family loves this recipe because there is plenty of sauce. Also, when you add the uncooked spaghetti noodles to the pot and cook, all the flavors really meld together. It is delicous!

I did mine similar but a little different :) I used V8 instead of tomato juice. I also put in mushrooms and a little italian seasoning because we like that. I browned the 1st three ingred. also, then I put in crock pot with all other ingredients and let cook on low for how ever long you need. I turned it to high and put the noodles in and cooked for @ 45 mins or so at the end. This is the best spaghetti EVER. I have never put in jars or such but I was about to post this recipe when I found this one.
Cook first 3 ingredients on the stove, stirring until beef crumbles and is no longer pink.
Drain well.
Stir in tomato sauce and next 8 ingredients.
Bring to a boil.
Cover, reduce heat, and simmer, stirring often, 30 minutes.
Add uncooked pasta, cover and simmer another 20-30 minutes (or longer, if desired).
Serve with Parmesan cheese.