All-In-One-Pan Roast and Vegetables
RigelBee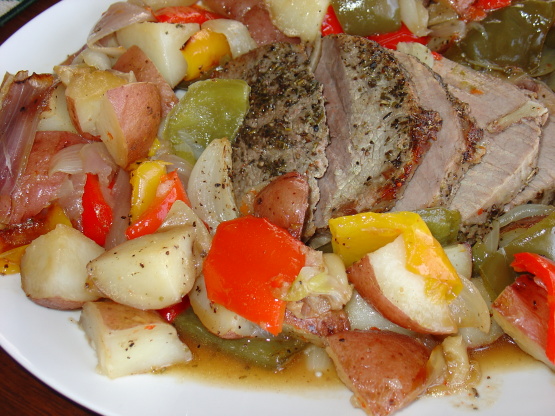 I found this recipe in a magazine and thought I would give it a try. I made two changes - 1. one green pepper in place of a red (next time I will stick with red only) 2. Italian seasoning in place of thyme. Otherwise, I followed the recipe exactly. The smell of this cooking was so wonderful. My dh came down about 10 minutes after I put the pan in the oven and wondered WHAT smelled so good and "did I have anything he could munch on while he waited????" Ha Ha! Anyway, when it finally came out of the oven, we were not disappointed.
Preheat oven to 400 degrees.
Remove ribs and seeds from peppers, and cut into 1-inch strips or pieces.
Halve onions and cut into 1-inch wedges.
Scrub potatoes and cut into 1-inch chunks.
Place peppers, onions, potatoes, and whole garlic cloves on a large rimmed baking sheet.
Drizzle with 1 tablespoon of oil.
Season with salt and pepper, and toss to coat.
Using a paring knife, make 12 small slits in top and sides of roast; push in garlic slivers.
Move vegetables to sides of sheet.
Place beef in center, and coat with remaining oil; rub all over with 1 1/2 teaspoons coarse salt, 1/2 teaspoon pepper, and 3/4 teaspoon thyme.
Roast 40 to 50 minutes, tossing vegetables occasionally until tender.
Let meat stand 10 minutes, loosely tented with aluminum foil to keep warm.
Serve.
(Save leftover meat for Beef and Mango Wraps).