Boomette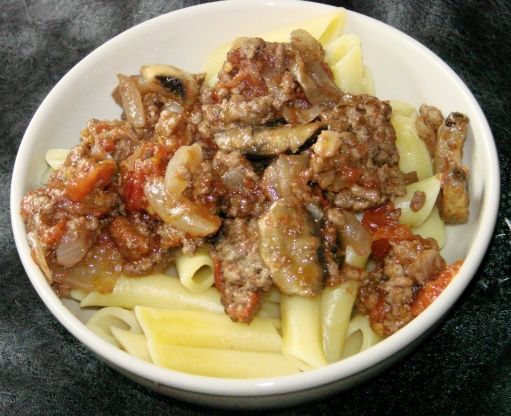 Fabulous family meal adapted from a 2003 issue of Super Food Ideas - i double it when my children bring friends home for dinner.

This is just an excellent every day meal! Quick, delish, filling and made from ingredients that you generally have around. I added 3 cloves of garlic and used a home made pasta sauce that I had in the freezer. I increased the pasta to 3 cups instead of 1 1/2 cup. Thanks for sharing, I will be making this again!
Heat oil in large pot.
Saute onion till tender.
Add mince and brown well, breaking up lumps.
Stir in sauce, mushrooms, wine and seasonings.
Bring to the boil.
Reduce heat and stir in pasta.
Simmer for 20 minutes.
Serve with grated cheese.