All Grown-Up Chewy Chocolate Chip Cookies
fawn512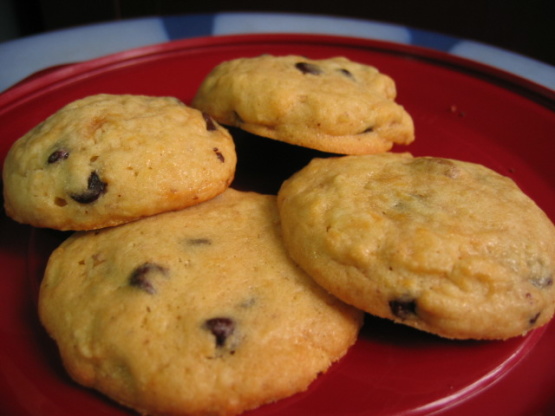 This recipe won 3rd place 2006 contest held by COPIA, the American Center for Wine, Food and the Arts in Napa, CA. This is a chocolate chip cookie for grown-ups. The slight bitterness of the chocolate and espresso combine with the caramel sweet flavors of the golden syrup and the malted milk powder create a cookie with a complex flavor that is not too sweet and has a strong chocolate punch.

The only cookie sheets I own are air-cushion ones so that probably affected the shape of my cookies -- very flat, not puffy as is the photos, but still chewy. While the overall flavor is sweet and mild, the problem I have is with the gritty texture, seemingly caused by the malted milk powder.
Place a rack in the center of the oven and preheat to 375°F Line cookie sheets (not air cushion style) with parchment.
In a large bowl, cream together the butter, brown sugar, granulated sugar and golden syrup. Beat in the egg, vanilla, malted milk powder and espresso powder. Add the flour, salt, baking powder and baking soda; stir until thoroughly combined. Stir in the chocolate chips.
Drop the dough by rounded tablespoons (I use a #40 ice cream scoop) 3 inches apart onto prepared cookie sheets. Bake for 10 to 11 minutes, until golden brown at the edges; the center will appear slightly undercooked. Transfer entire sheet of baked cookies to a wire cooling rack. Cool for at least 10 minutes before removing the cookies from the parchment.