Directions
Place everything except the peas in a dutch oven or crockpot.
If cooking in oven cook in dutch oven at 250 degrees for 6-7 hours.
Cook in crockpot for 8-10 hours on low.
Add the peas during the last half hour of cooking.
Reviews
Most Helpful
Very good stew and the smell tormented me all day! Had no green peas, so I subbed fresh green beans. Hubby and I will enjoy the leftovers tomorrow! I also doubled the spices and added seasoning salt.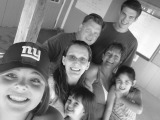 This is a very flavorable stew. I followed the recipe as written and put it in my 6 quart crockpot. I would give this recipe a 5 Star for flavor but a 4 Star for cooking instructions. I had to scoop out liquid twice during cooking and added twice the 4 Tablespoons of Tapioca but after nine hours of cooking it still wasnt the consitency of a stew. I would suggest next time to drain tomatoes or only use one can. My crockpot was pretty full to start which should of given me a clue it would over flow. The red wine added a great flavor to the broth. Served it with Red Lobster Biscuits the recipe also found on Zaar.