All Butter English Flapjacks
robd16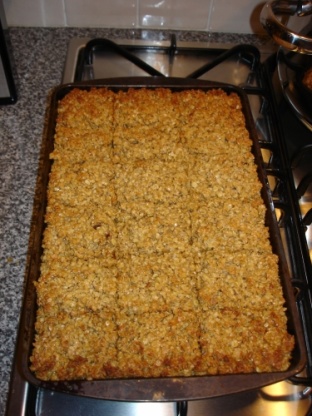 The best home made flapjacks ever, I prefer to use a mixture of jumbo oats and rolled oats but all oats work perfectly except for the instant style powdered type. If you don't have golden syrup you can use honey or a mixture of light and dark corn syrup but the taste won't be quite as good. Maple syrup is too thin but you could get away with using half maple and half honey or other syrup. These are great as they are and I always come back to the original, but sometimes I'll add some chopped banana, raisins or nuts, just to ring the changes. Enjoy.

These didn't work out very well at all! They are too crunchy on the outside so I can't get them out of the pan, and in the middle, they are just falling apart. I can't even shape them into balls, so I'm just going to sprinkle it on my cereal in the morning. Which is a real shame because the flavour is truly delightful.
Preheat the oven to 160C/325°F.
Melt the butter gently in a large saucepan and add the sugar along with the syrup.
Heat gently, without boiling, when the sugar has dissolved take off the heat and stir in the oats.
Put the mixture into a greased baking dish and bake for 20-25 minutes.
Cut into squares while still warm and leave to cool in the dish.