Alice's Olympian Cream Chocolates
juliec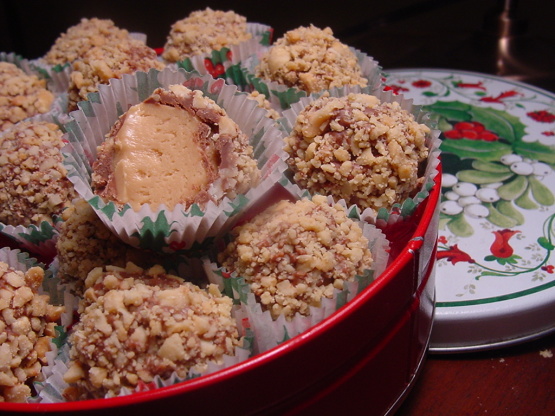 This recipe is handed down from my mother-in-law. It is my favorite Christmas candy.
2

cups sugar

1

cup cream

2

teaspoons light Karo syrup or 2 teaspoons lily white syrup

Browned Sugar

1⁄2 cup sugar

4

teaspoons cold water

Finishing

dipping chocolate
finely chopped peanuts
In heavy saucepan mix and boil sugar, cream, and light syrup.
Meanwhile brown 1/2 cup sugar in saucepan. As it reaches a golden brown, add in cold water and immediately pour into sugar/cream mixture as it boils.
Bring to soft ball stage.
Pour out into buttered pan to cool.
Beat with wooden paddles until mixture is light and airy. Put in a container, cover with plastic wrap and cool.
When cool, form in small balls. Dip in chocolate and roll in chopped peanuts. Store in refrigerator.