Alice's Fondant Filling for Chocolates
PKG178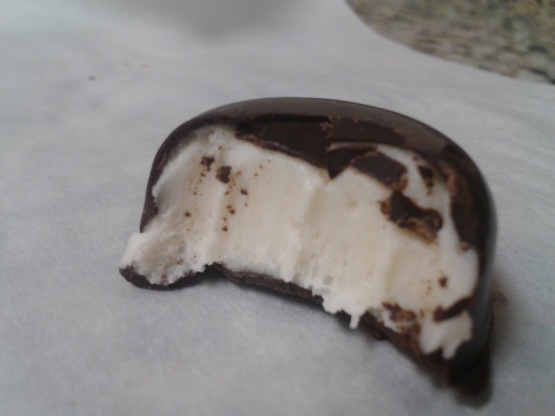 Recipe handed down from my mother-in-law. There are many variations of flavor included at bottom of recipe.

Very good! I cooked it to 240, and then let it cool to 120 degrees, per peter grewlings chocolates and confections book, where he states cooling it to this temp before the agitation lets the fondant have nice small molecules that will not be grainy. A very nice tasting smooth fondant. Will make again for sure! 240 cooked it to a med consistancy, less than that it would be runnier, and up to 257 it would be much harder.
2

cups sugar

1

cup cream

2

teaspoons light Karo syrup or 2 teaspoons lily white syrup
Combine ingredients in heavy saucepan. Boil until it reaches a soft ball stage. Pour into buttered dish to cool.
After mixture is cooled, pour on clean surface and beat with wooden paddles until light and airy. Just as mixture "turns" mix in flavoring until thoroughly blended inches.
Refrigerate to cool completely. Form into balls. Dip in desired chocolate.
Variations:.
Peppermint (peppermint extract to taste).
Maple Walnut (maple flavoring to taste and finely chopped walnuts).
Orange (orange extract to taste--a few drops to 1/2 teaspoon).
Cherry (Maraschino cherries drained and quartered--pat dry).
Cherry-almond (as above but add almond extract to taste).
Almond (almond extract with a sliced almond on top of finished chocolate).
Coconut (fine coconut plus vanilla).
Rum (rum extract plus 1-2 teaspoons butter).