Alice Pike's Famous Brownies
Pamela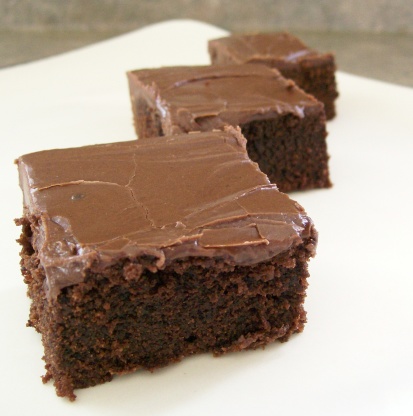 Alice Pike was my maternal Grandmother. When my mother was a child her mother managed 2 employee's lunch counters, first in a cotton mill in St. John, New Brunswick and then in Eaton's in St. Catharines, Ontario. In both places Alice Pike's brownies were famous favourites and always sold out. In St. Catharines Eaton's employees were often asked by the Kresge's employees (from across the road) to buy brownies for them, which were only available on Fridays. She always turned down the endless offers to sell them by the dozen as she could always make more money selling them individually. She was a smart cookie! Well, now you can make as many as you like! They are moist and super chocolaty!

Top Review by nmj17
Delicious brownies! Kids all loved them. I baked mine for 30 minutes and they came out perfect. I iced while they were still warm because I just could not wait, and even though the icing slightly melted to a glaze, they were incredible!
For Brownies: In mixing bowl or food processor blend well, butter, sugar, cocoa, eggs and vanilla.
Combine flour, baking powder and salt.
Add to cocoa mix.
Bake in greased 8x8 square pan for 20-25 min at 350.
Make them gooey-moist by taking them out just after the middle has puffed up or risen (which is the only way!) Leaving them in longer will give you a cake-like brownie.
Meanwhile make icing.
Allow to cool before icing or you can dust with icing sugar (shaken through a sieve).
They are even good naked.
For Chocolate Butter Icing: Cream butter with cocoa and 2 cups of icing sugar.
Beat in 2 tsp vanilla, 2 TBSP milk and 1 cup of icing sugar.
If needed, gradually add 1-2 TBSP milk until desired spreading consistency.
Makes enough icing for 2 batches of brownies.
Will keep in the fridge for a week.