Algerian Stew With White Beans - Barboucha
JessD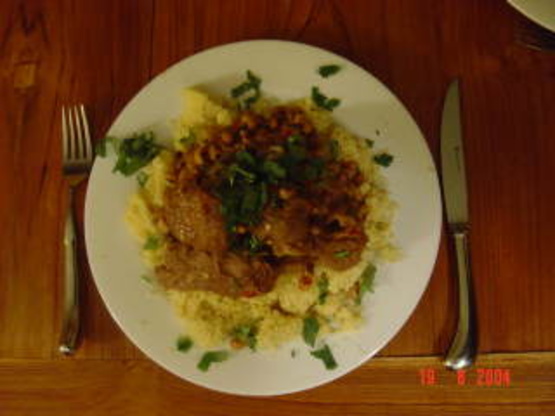 The first time I had this stew was in a remote town in Morocco. The smell of the spices, bursting through the steam caught my attention, then, the flavours melted in my mouth. Serve with couscous or bread.

Lovely! I used mutton, so had to simmer the meat and vegetables quite a long time. I stuck to all ingredients and amounts listed, except had to substitute parsley for the cilantro, and I added a couple of carrots I needed to use. I love cilantro, but was out. Will use cilantro next time. I'm always on the look out for different recipes using lamb or mutton, and this filled the bill. I thought the spices called for and the amounts were sufficient for a sort of homely, comfort-food style dish. The amount of beans seems right, too. It's very good. Thank you very much for sharing this recipe with us.
Roast the peppers on a flame, till the skins turn black, then cover with saran wrap for ten minutes to allow the steam to moisten the peppers.
Remove the wrap and peel off the skin.
Do not rinse under running water as you will take away the taste.
Dice the tripe into 1 inch squares and blanch in hot water, and drain.
If using lamb, brown in a little oil to remove the oil, and cut into cubes.
In a stewing pot, saute the onions, garlic, green peppers in 2- 3 tablespoons of olive oil for 5 minutes on medium flame.
Add spices and continue frying for 1- 2 minutes.
Add meat, and stir until the meat is coated with all the ingredients.
Cover with water, add the white beans and bring to boil for at least an hour, or until the beans are cooked. Add 2 chopped tomatoes, 20 minutes after cooking the white beans
Garnish with chopped cilantro.