Algerian Chicken & Chickpea Soup ( Chorba / Shorba)
Um Safia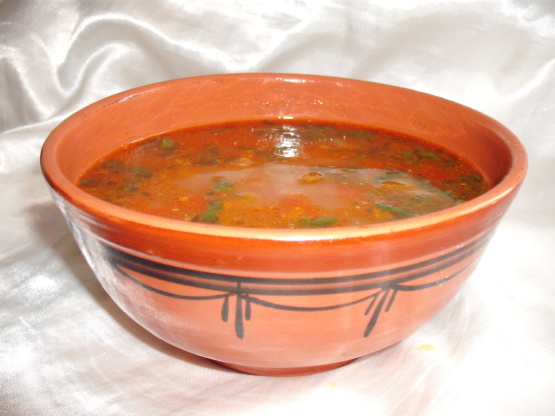 I love this soup! During Ramadan we have it at least twice a week as everyone likes it - even my little children! I think key to this being so delicious is the preserved lemon....it really adds so much to it. I also cook this in the pressure cooker: seal chicken add all ingredients except coriander / cilantro & lemon juice. Cook on medium/high for 45 minutes. Add remaining ingredients & simmer with lid off for 1 min. Re-season & serve. This soup freezes really well, bag into portions & freeze. De-frost, re-heat, add a little more cilantro, lemon juice & ras el hanout & it's as good as before!

i love this soup will give it , i thought i make the best one but yours is very nice
well done
jasmine
Place oil in a large pan, add the chicken & fry to seal all over. Add the spices & fry for a minute more.
Add all the other ingredients except the coriander / cilantro, chickpeas & the lemon juice. Bring to the boil then reduce heat, cover & simmer 1 hour.
Add the chickpeas to the pan. Take the chicken from the pan & remove all the meat from the bones, shred & put back into the pan. Simmer for a further 20 minutes.
If the soup is the consistency you like, you can add the coriander / cilantro & lemon juice now. Simmer for 1 minute, re-season if desired & then serve.
If you feel the soup needs to be a little thicker, you can either reduce it down by cooking further or thicken with plain flour.