Algerian Chicken and Olive Stew
awalde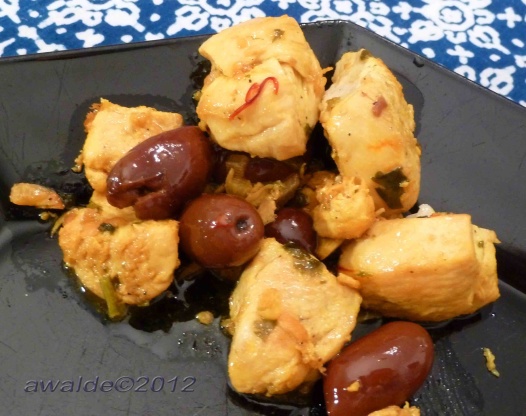 This stew is a traditional Algerian recipe called "Died b'l-Qasbour." It is seasoned with saffron and cilantro. Serve over rice or couscous.

Top Review by awalde
This is really the kind of food we like: tasty, light and exotic.
The recipe is easy and I think nothing can go wrong.
The kind of saffron I use (whole saffron threads) needs time to develop color and flavor, for this reason is very important to cook it for some time!
Thanks a lot for this recipe!
In a large pot or Dutch oven, heat oil over medium high heat; add chicken and brown on all sides, about 10 minutes.
Stir in butter, garlic, saffron, and cilantro; cook another 10 minutes, stirring, to be sure garlic and spices evenly coat the chicken.
Add water and bring to a boil; reduce heat and simmer until chicken is tender, about 25 minutes.
Stir in olives and lemon juice; simmer 8 minutes.
Season with salt and pepper; serve over couscous or rice.