Algerian Basboussa - Semolina Cake With Syrup
Um Safia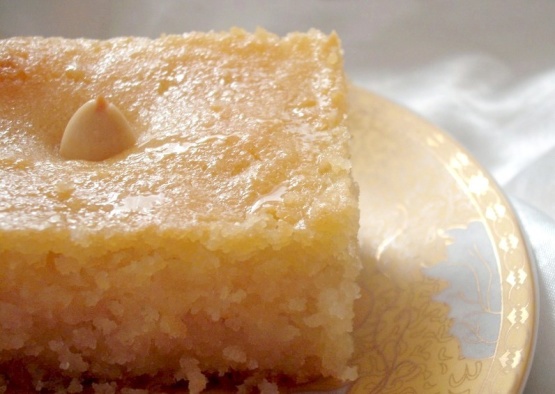 There are many, many versions of Basboussa ( and many spelling variations!) throughout the Arab world. Some of these are a spongy cake-like texture & some are more of a grainy texture. This Algerian version is more of a cake-like texture - which happens to be my favourite. I absolutely love the addition of coconut in the recipe, it really adds something to the Basboussa. This recipe is extremely simple to make & is delicious served with coffee or tea. It is definitely a Ramadan staple in our home!
Preheat the oven to 180°C Grease a large baking dish (approx. 11" x7").
In a pan, place the sugar & water from the 'Syrup Ingredients', bring to the boil then simmer until you have a pale golden colour. Remove from the heat & stir in the lemon juice & the orange flower water. Set aside to cool, you can also store this syrup in the fridge until you need to use it.
Place all the wet ingredients in a large bowl & using a hand mixer, mix until creamy. Add the dry ingredients a little at a time & mix well.
Pour into your baking dish & level off the surface with the back of a dessert spoon or palett knife. With a small knife, score the surface into equal squares or diamonds & place a blanced almond in the centre of each square / diamond.
Bake in the oven until golden - this will take approximately 30-40 minutes.
Remove from the oven & cut through the scored squares / diamonds. Pour the syrup over the top & allow the Basboussa to soak up the syrup before serving. It is best to leave it for at least 2 hours for best results.