Algarve Oven-Baked Codfish With Cauliflower (Pescada Assada)
Derf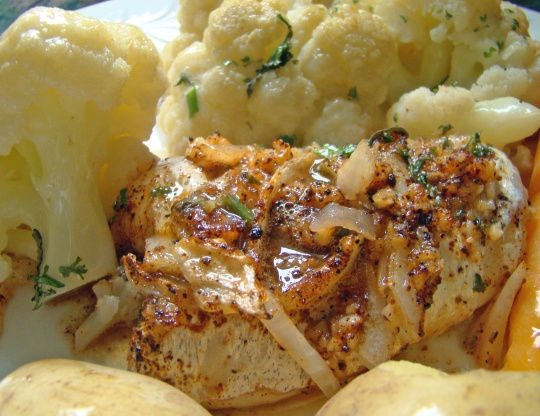 Found in a recipe book from the Algarve region of Portugal.

Top Review by Derf
wow DH says 5 stars plus!! This is probably the best cod recipe we've had since we were in the Algarve!! Brought back lovely memories of wonderful seafood meals! Just made half a recipe for the two of us. I made as is except for the parsley, I had a mix of fresh parsley, chives, oregano and basil, left from another recipe and used it, worked great. We loved the cauliflower, I did parboil it only for 4 or 5 minutes, we like it tender crisp. I was also out of white wine so i used dry sherry. Served with baby carrots and new potatoes. Wonderful meal, thanks for posting!!
Set your oven to 400 degrees F.
Clean the cauliflower and parboil the entire head in lightly salted boiling water for 10 minutes. Drain and then separate into fleurettes. Set aside in a warm place (ie bowl with a lid).
While the cauliflower is cooking, grease an ovenproof casserole dish with olive oil. Arrange the fish in the dish, then sprinkle it with the onion and garlic. Season with salt and pepper and the chile powder if using. Pour the wine over the fish and drizzle with the olive oil.
Bake the fish for 20 minutes. About 5 minutes before the fish is due to be done, add the cauliflower to the pan.
Garnish with the parsley and serve immediately.