truebrit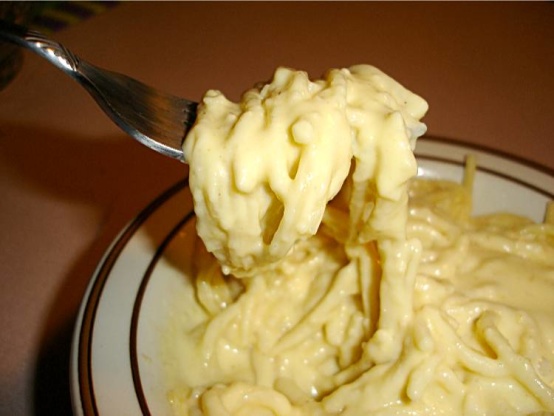 Beauty in simplicity. Great taste in simplicity. However you want to say it. No fancy cheeses you never heard of. Just... I'm sorry I'm not more creative in my words, but taste this see what I mean. For an extra flavorful sauce try adding 8oz. of cream cheese.

Rakow, I definitely see what you mean! This is one of those recipes that I wish I could give more than five stars. The sauce is flavorful and creamy, and tastes just like the Alfredo Sauce they used to serve at a local Italian restaurant. (The restaurant closed down a few years ago, but now I'll be able to enjoy my favorite Alfredo sauce here at home!) I doubled the recipe, and served it with a 16 oz pack of low carb spaghetti. (Dreamfields brand, which tastes just like regular pasta!) Thanks so much for posting this delicious recipe!
Melt butter in heavy sauce pan.
Add everything but the mozzarella.
Cook until thick stirring constantly.
Add mozzarella and cook until mozzarella is completely melted.
Serve immediately.
Enjoy.