Alex's Favorite Beef and Cheese Pie
Boomette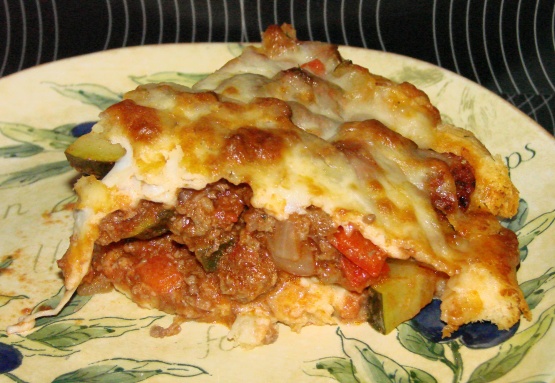 This is the #1 all-time most requested meal that my two boys grew up on. Now Adam is 27 and Alex has passed away, so I'm posting this in Alex's memory. So easy, and you won't be dissapointed! Also very good cold the next day. I got in the habit of making 2 pies so there WOULD be leftovers! I got this recipe from a small cookbook I picked up at a truckstop while driving across country called "Cooking For The King of the Road"

This dish is amazing! I used zucchini in place of the green beans and just plain forgot about the bell pepper. I also had no garlic salt so I used two heaping tbsp. of chopped garlic and some seasoned salt and it was still awesome. DH also suggested that some chopped tomato might be nice and I agree. I think this dish would have to be somewhere in the top 10 of my all time favorite Zaar recipes. Needless to say this is something I will be making often and I imagine my kids will be asking for the recipe in 20 years :) Thank you so much for posting such a winner!
Brown beef, onion and green pepper.
Drain fat off.
Add tomato sauce, green beans and garlic salt.
Simmer 10 minutes.
While the beef mixture is simmering, spread separated crescent rolls into a pie plate, pressing edges together to make a thin crust with an edging around the rim (like for a fruit pie).
Mix 1 cup cheese with beaten egg, spread on bottom of crust.
Pour in beef mixture.
Sprinkle with paprika and parsley.
Spread 1 cup cheese on top.
Bake at 375 degrees Fahrenheit for 25 minutes, or until bubbly and cheese begins to brown. Remove from oven.
Let stand for 10 minutes.