Alexa's Cilantro-Ginger Flank Steak
Bayhill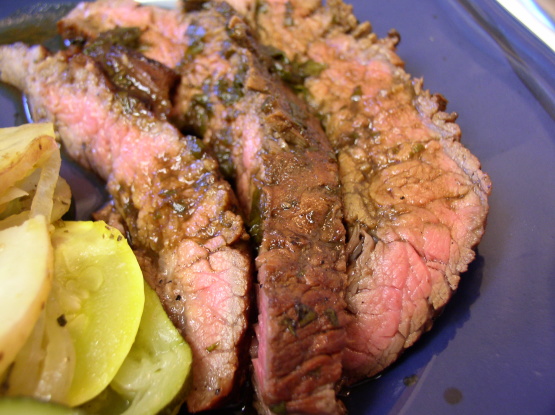 A co-worker shared this recipe with me. It's really, really good and very simple. Great on the grill or under the broiler. Delish! The marinade is wonderful on all types of meats. Prep time includes minimum marinating time. ENJOY!

I loved this and will definitely make again.
Whisk first 5 ingredients to blend in 13x9x2-inch glass baking dish.
Add steak and turn to coat.
Let stand 1 hour at room temperature or cover and refrigerate overnight, turning occasionally.
Prepare barbecue (medium-high heat) or preheat broiler.
Drain marinade into small saucepan and bring to boil while stirring.
Grill or broil steak about 5 minutes per side for rare.
Transfer steak to platter; let stand 10 minutes.
Thinly slice steak across grain.
Pass marinade as sauce.