lazyme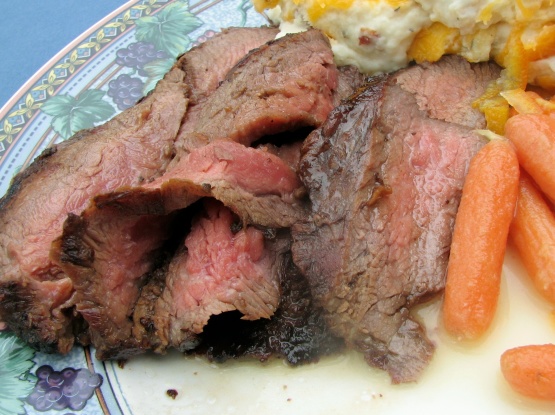 Canadian way to eat steak.

Top Review by GSCook
This was SOOOO easy and quite delicious... a big hit with my family. I threw the marinade together before work... just dumped all the ingredients in a gallon sized Ziploc bag. Used a nice cabernet, minced garlic from a jar (my bad) and, because we like both, added 3 tsp. of ground ginger (vs. fresh - as that's what I had). Used a good EVO and a "lite" sodium soy sauce, then tossed in my 3 lb. flank steak. Took all of the air out of the bag leaving the steak fully emersed in the marinade. Grilled it when we got home in the evening and it was so tender and delicious! Thanks for a quick and easy recipe. This one would be great for company!
Combine soya sauce, wine, oil and ginger or garlic in a shallow bowl. Score meat with shallow cuts, criss-cross-style at 2-inch intervals and add to marinade, turning to coat meat. Cover and refrigerate for at least four hours but preferably overnight, turning occasionally.
Remove meat from bowl, reserving marinade. Barbecue over medium-hot coals or at medium-high setting, brushing occasionally with marinade, 4 to 6 minutes per side, or until cooked to desired doneness.
Remove from barbecue and let stand for 5 minutes, then cut diagonally across the grain, in extra-thin slices. Wrap well and chill.