Albanian Tomato Cucumber Salad
Parsley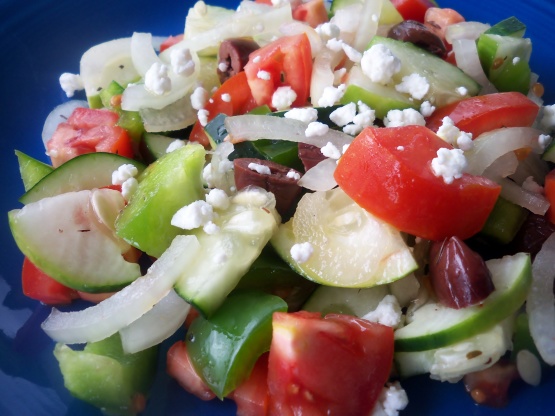 This traditional salad is served throughout Albania. It is often served as first course. Typically this salad has equal proportions of tomato and cucumber. The rest of the ingredients are stictly added based on personal preference. I got this recipe from some missionaries that have lived in Albania for a long time. They made a cookbook with other missionaries called "From bugs to beans." Posted for ZWT 4.

I ate this for a light supper in 96 degree heat today. I left out the green pepper, as I had none, and a cucumber fresh from the garden! Delicious and healthy too! Thanks Mollie!
Combine tomatoes, cucumber, onion, and peppers in a mixing bowl and toss.
Drizzle the olive oil over the salad and season with salt to taste. Garnish with olives and cheese.