Albania: Byrek Ose Lakror (Leek Pie)
Satyne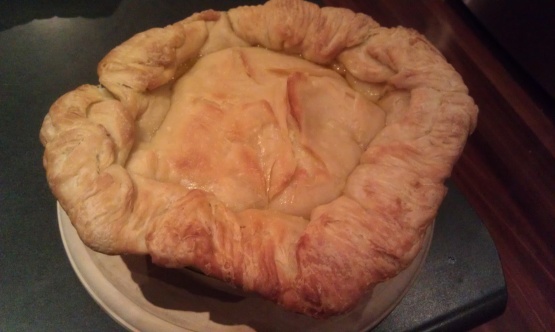 This recipe is from week four of my food blog, "Travel by Stove." I am attempting to cook one meal from every country on Earth, and Albania is my fourth stop. This pie is really tasty and very different from American savory pies. To speed things up, you can use phyllo dough or puff pastry in place of the scratch-made dough.

Top Review by Satyne
This was my first attempt making a pie from scratch, so thank you for the detailed instructions, my pastry came out nicely. Next time I will make the pie in a shallower wider dish rather than the one I had on hand for tonight. The pie was quite nice, hearty flavours, quite a comforting meal. Made for My Food Odyssey Albania.
Mix the flour, salt and water together and knead for five minutes. Let sit for 10 minutes, then divide in half. Roll out one half until thin and then butter. fold the sides toward the center, then butter again. Fold the dough in half lengthwise, then butter again. Keep going until you have a five-inch square. Then butter the top and cover with plastic wrap. Refrigerate for 15 minutes. Repeat with second ball of dough.
Grease a standard sized pie-pan. After 15 minutes in the fridge, bring the dough out and roll it until it is the size of a pie the pan. Lay it on the bottom, leaving about a half inch hanging over the edges. Now you are ready to make the filling.
Wash and thinly slice the leeks (white and light green parts only). Set aside.
In a large bowl, mix the cottage cheese, feta cheese, eggs, salt, yogurt and melted butter. Then add the leeks and mix until everything is well incorporated.
Pour the filling into the prepared pie plate. Roll out the other piece of dough and top the pie with it. Crimp the edges or just roll the top up with the dough on the bottom. Brush with butter.
Bake at 400 degrees for 45 minutes, or until top of pie is golden.