Brenda.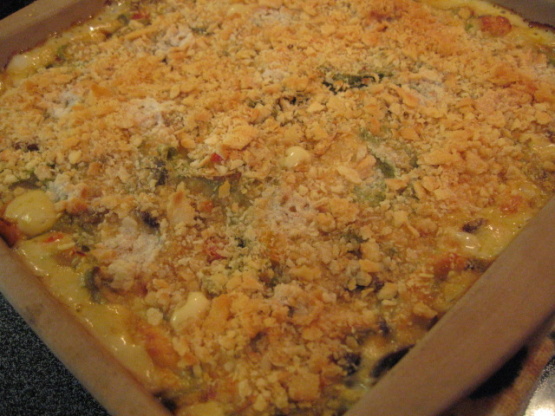 My most favorite chicken casserole. I got this recipe from a lady who retired from a job that I took over about 26 years ago. When we had office potlucks, I always requested her to make this. Even though we don't live in Alabama, no other name would seem right for this dish!

This was a truly unique recipe that I will tuck away as pure comfort food. My DS did not care much for the green olives and asked that in the future I substitutue broccoli, but I loved the flavor the olives gave the finished dish. I did add about a half of soup can of the broth to the mixture before placing in a deep 9x9 stoneware baking dish (I did not grease the pan and it was perfect). OK- now for the 1/2 cup of butter I used to saute the veggies- LOL I am going to cut that way back next time and use more broth. I know that it is a part of the overall yumminess but I have to try to lighten it up a bit :) I had a variety of colored peppers to use up so the dish was very pretty with the spinach noodles and the veggies. Thank you for sharing, this will be made again :)
Cook chicken in water with bay leaf and debone.
Cook spinach noodles in the chicken broth and drain, but reserving the broth.
Saute' green pepper, celery, and onion in melted margarine/butter until tender.
Add cubed Velvetta and stir until melted.
Next add green olives, mushrooms, cream of mushroom soup, and chicken.
Blend sauce in cooked spinach noodles and place in slightly greased casserole.
You may add more broth if needed.
Top with cracker crumbs and dot with butter and bake 350 for 45 min.