Prep 15 mins
Cook 45 mins
This recipe was obtained from Penzey's "One" magazine. It is very moist and flavorful. A cross between quick bread and cake. Easy one bowl preparation for a fast,delicious snack. I've modified it some on instructions, pans, etc. Enjoy!!!
Directions
Preheat oven to 350*. Grease with PAM either 2-8" loaf pans or a Bundt pan and if you wish, lightly sprinkle with cinnamon sugar for an added treat.
Take a lg. mixing bowl and add the first 7 ingredients. Mix with an electric hand mixer or by hand if you don't have one.(Use a fork). Just until blended.
Next add flour,salt,and b.soda. Mix thoroughly.
Fold in the berries last with a rubber spatula.
Spoon batter using spatula into prepared pan or pans as stated above.
Place in oven regular shelf setting (does not have to be middle).
Bake at above temperature for approximately 45 min's. to 1 hour.
You'll have to check it, time vary's with ovens. Let cool 15 min's. then remove and cool on cooling rack.
Reviews
Most Helpful
Now THAT'S-a-lotta blueberries! This bread is fantastic. Love the hint of lemon, the cinnamon and clove, and I did opt to "dust" my pans with cinnamon sugar. Oh my, YUM! I made the recipe as written and didn't change anything. My 2 loaves baked for 50 minutes, then I cooled on a rack for an hour before trying it. Then trying it again.....then again just to make sure LOL. Awesome recipe scootercrocker, thanks for sharing. Made for PAC Spring 2011.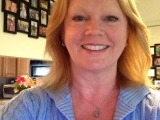 This turned out very good but I did have to add 1 cup of milk to get it to a batter consistency. I followed the instructions and found it to be way to stiff to fold in the berries. So I looked at some other recipes similar to this one and added the milk. I got 8 mini loaves. It was perfectly baked in the 45 minutes stated. I really liked the dusting of cinnamon sugar and the spices and lemon extract were just the right amount. Thanks for sharing. Made for PAC 2011.
I thought this bread was really good.I substituted applesauce for half the oil and it still came out very moist.I also added some chopped walnuts which I liked.The only thing I wasn't too wild about was the lemon flavor with all the spices.I think I would have liked it better with vanilla instead but that's just my preference.