Al Roker's Spicy Chicken Wings
Bergy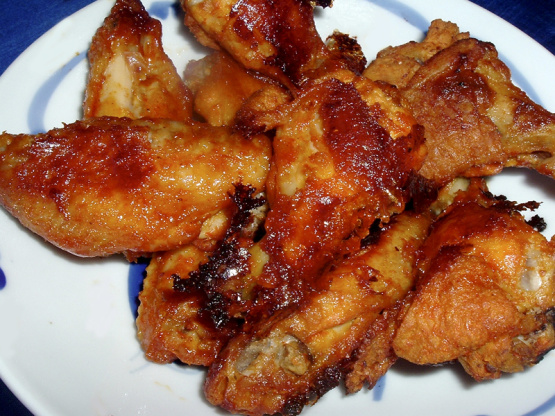 These wings are marinated for a few hours in a mixture of hot pepper sauce, honey, chili powder and butter and are then baked until crispy. Serve with blue cheese dressing. Recipe found in Womans Day magazine.

I cooked our wings at 350 for 1 hour and they came out perfectly glazed and brown and delicious. I turned down the heat on ours and only used 1 tsp. chili powder and less hot pepper sauce, about 1/2 as much. Al Roker, you rock.. These wings are GREAT! Thanks!
Mix first 5 ingredients in a large bowl.
Add chicken and turn to coat.
Cover and refrigerate, turning occasionally for at least 2 hours or up to 12.
Heat oven to 375° and line baking sheet with heavy duty foil.
Add chicken in a single layer.
Bake, turning chicken once for 1 1/4 hours or until chicken turns crispy.
Note: After baking these can be cooled and refrigerated, covered for up to 24 hours. Reheat in covered baking dish in a 400° oven for 15 minutes.