Flacucia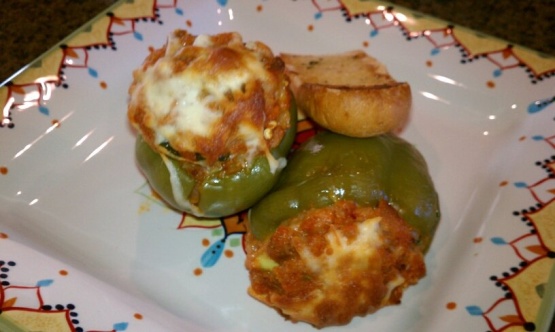 It's a great recipe for all those extra veggies in the garden. This can be made the night before and baked in the oven the next day. You will have leftover stuffing mixture to enjoy for the rest of the week. One stuffed pepper can be served with a light salad on the side to make a deliciously full meal! Enjoy! CHIN CHIN! - AJ
Heat oven to 350 degrees.
Cut stem end off each pepper and remove all seeds and membranes. Wash inside and outside.
Heat a saucepan of water and 1/2 teaspoon salt to boiling. Add peppers; cook 5 minutes and drain.
Brown sausage and onion in a skillet. Transfer to mixing bowl.
Mix remaining ingredients with sausage/onion mixture. Reserve some cheese to top peppers later.
Stuff each pepper with the suffing mixture. Stand peppers upright in ungreased baking dish, 8 x 8 x 2 inches.
Sprinkle with cheese.
Bake 30 minutes.