Kim127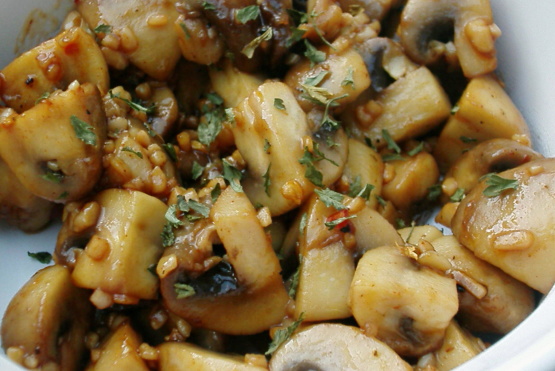 Few tapas taste more Spanish than champiñones al ajillo (ajillo mushrooms), dripping with olive oil, garlic and dry Spanish Sherry. To make this tapa even more authentic, be sure to serve the mushrooms with plenty of fresh, crusty bread to mop up the delicious juices.

These were great! Who knew that when you cook mushrooms over very high heat they actually squeak! They also retained their moisture nicely! I did not have any sherry on hand so just substituted a bit of white wine. You would not get anything better in a restaurant! Thank you English_Rose!
Heat the oil in a skillet and sauté the mushrooms over high heat for about 2 minutes, stirring constantly.
Lower the heat to medium and add the garlic, sherry, lemon juice, dried chile, paprika, and salt and pepper.
Cook for about 5 minutes or until the garlic and mushrooms have softened.
Remove from the heat, sprinkle with chopped parsley, and serve on small earthenware platters.