teresas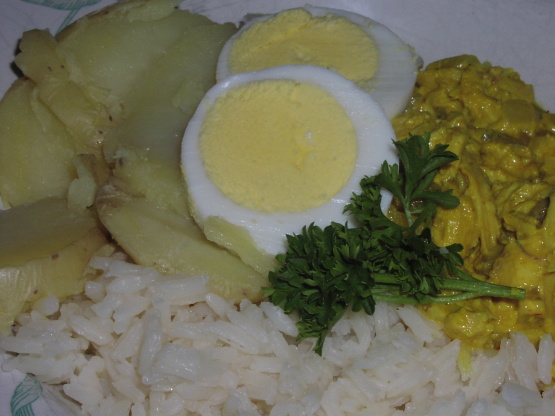 The first time I tried this classic dish was at a Peruvian restaurant in New York City's West Village - it immediately became one of my favorite dishes. Now that I live in Washington, DC, which has a great Peruvian community and lots of great restaurants, I can have it whenever I like. My favorite way, though, is to cook it at home. I've tried several recipes over the years, and by mixing and matching and editing and experimenting, this is what I've come up with. Just a quick note - "Gallina" means rooster, as this is what the traditional recipe was made with. I make mine with chicken, since it is more readily available. So technically this would be "Aji de Pollo." If you happen to have a rooster laying around, let me know how it goes!
I just got the DMV area and have been craving this dish. This recipe is Super Delish!!! I made a couple of modifications: - Substituted the chicken breast for shredded rotisserie chicken. -Added more of the aji paste.
Simmer the chicken breasts in the broth until just cooked through, about 20 minutes. Set aside chicken breasts to cool.
Strain broth and use it to prepare your rice according to package directions. Set aside any leftover broth.
In a food processor or blender, add the bread cubes, evaporated milk and 1/2 cup broth. Process until smooth. Add the Parmesan and walnuts and process again until the mixture is smooth.
In a pot, saute the chopped onion for about 3 minutes, then add the garlic and continue to saute until the onion is translucent, about 2 minutes more. While the onion and garlic are sauteing, shred the chicken into bite-sized pieces using your hands or 2 forks.
When the onion is translucent, add the turmeric and cumin, stirring to toast the spices for a moment. Add the shredded chicken and the aji paste and stir the mixture to coat chicken with the spices.
Pour in the bread/milk mixture over the chicken and stir over medium heat until the sauce is bubbling and the chicken is heated through. If the sauce thickens too much, thin it out with some leftover broth. Taste for seasoning and add salt and pepper to taste.
Serve over rice with garnishes.