3 Reviews
Five stars, for sure. I loved this. The blend of flavors (garlic, lime, onion, etc.) was wonderful. I used dried, crushed red pepper, only about a half teaspoon, and that was perfect. The lentils took a little longer to cook than 20 minutes. I served it over white rice. Lovely recipe.

This is absolutely delicious! Very healthy and hearty and earthy. Very primal! Loved it! Thanks, Sharon123! Made for Vegetarian Recipe Swap.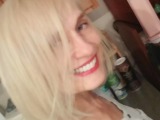 This recipe was included in Book#228608. August 26, 2008 -- I wanted to try a stew that was different than the kind I usually make, and I'm so glad I tried this terrific recipe. I like spicy food, so the amount of pepper was just right for me, but my son thought it was a little too spicy for him; next time I'll use less pepper just for his preference. And the salsa is awesome! I put the salsa in the refrigerator overnight, and it came out delicious, refreshing and light in taste. This is a great salsa recipe which can be used to enhance the flavor of many dishes. Thanks for posting this great recipe, Sharon.

Ají De Lentejas (Bolivian Spicy Lentil Stew)