Ainsley's Spicy Casablanca Couscous
IngridH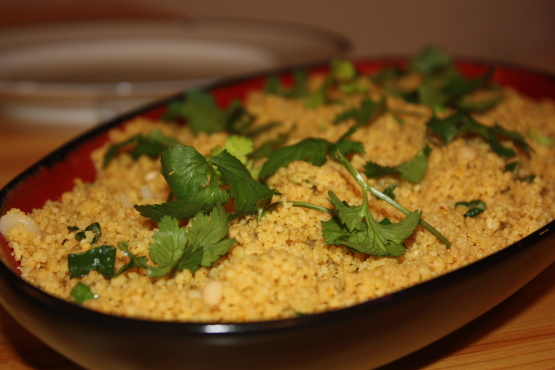 We are big couscous fans in my house and this recipe that my husband found from Ainsley Harriot is really tasty. Great as a snack on it's own or as an accompaniment to roasted veggies or grilled meats and fish.

We are also big couscous fans, so quick and easy and versatile. this is a lovely version, Noo, and I particularly enjoyed the pinenuts in it. Served alongside a chicken potpie, this was a fabulous meal, DH has claimed any leftovers :) (not much ;) ) Thank you, much enjoyed, made for PRMR tag game.
Heat 1 tbsp of the oil in large pan. add the cumin,garlic,coriander and paprika and fry over a gentle heat for 1 min,stirring.
Add the stock and saffron and bring to the boil. Add the spring onion and then pour in the couscous in a steady stream and give it a quick stir.
Cover the pan with a tight fitting lid, remove from the heat and set aside for 5 minutes, to allow the grains to swell and absorb the stock.
If you are serving this warm, stir in the rest of the oil and the remaining ingredients now. Otherwise allow the couscous to cool and chill in the fridge for 1 hour before adding the other ingredients for a yummy cold couscous salad.