Ahoy There! Moules Marinières - French Sailor's Mussels
French Tart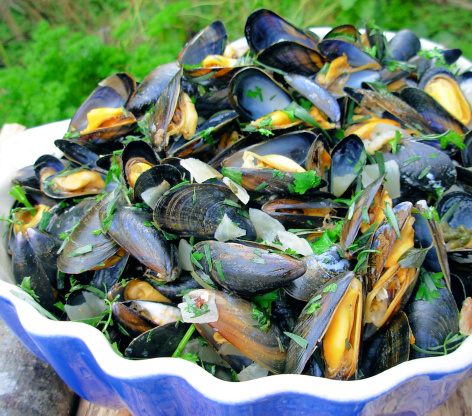 I adore moules, mussels, and this is the classic French recipe for them. Moules Marinières is also commonly known as Sailor's mussels or Mariner's mussels. The dish consists of delicately steamed fresh mussels in a white wine, garlic, parsley, butter, onion and cream sauce. Moules Marinières can be served as an appetising starter or even a light main meal. It is delicious served with fresh crusty bread or with frites (chips/fries). There is nothing more mouth-watering than a huge bowl of artistically presented mussels, yet the fun part is eating them. The best way is to use an empty mussel shell as the "spoon" in which to pick the remaining mussels from their shells and then eat them. It's a brilliant excuse to use your fingers to eat rather than the usual knife and for - very tactile! A traditional French recipe will use butter, however the butter may be substituted for a few tablespoons of olive oil for a healthier option - I sometimes use a mix of butter and olive oil I hope you find the step-by-step photos helpful, this recipe was used in the September 2008 Cooking School for the TOTM - hopefully, the photos will debunk the myth that mussels are hard to prepare and cook, NOT so! Bon Appétit!

Top Review by Zurie
Have made Moules Marinières many times before, but not your recipe. Thanks, FT, for your perfectly easy recipe -- I was looking for the basic recipe and could not recall it. Unfortunately as I write this it is midwinter in South Africa: I used defrosted New Zealand green-lipped mussels on the half-shell (great, actually), but fresh herbs are thin on the ground right now! I did have my own Italian parsley, and used more than specified, ditto fresh thyme (so hardy). I also added a lot of chopped spring/green onion. No other fresh herbs available, but those were fine. I stayed with your recipe, but admit I added a soupçon more wine -- maybe 250 ml, maybe 200 ml. I cannot understand one reviewer saying she'll add less wine next time!! In the end, with maybe evaporation, the wine I used was just enough and there was a lovely thin creamy sauce in the end. Such an easy, classic recipe. I'd say to others: don't change a thing, follow instructions, do use butter, and rather use a splash more (good) wine than less!! Thanks, Tarty!!! PS: I see my efforts at correct spelling produce strange effects!! I meant Marinieres with the accent, and soupcon with the cedille ... but it comes out funny!!! LOL!
Place the live mussels in fresh water. Scrub and debeard the mussels (see the photos), discarding any that are open, broken or cracked.
Fry the chopped onion and chopped garlic cloves (over medium heat) in a little butter (or oil) in the biggest saucepan you have. Add half of the finely chopped fresh herbs - I have used a mixture of parsley, oregano and tarragon. Season with black pepper, wait to season with salt to taste later.
Add the white wine to the butter and herbs, and then tip in the freshly cleaned mussels - turn up the heat to high. Cover the pan and let the mussels steam for about 5 minutes. Shake the pan every minute or so to coat the mussels in the liquid.
Take the pan off the heat and add the double cream or creme fraiche; then add of the remaining finely chopped herbs. Mix through thoroughly. That's it! Enjoy with crusty bread, frites and a chilled white wine -- divine!
NB: Discard any mussels that don't open during cooking. (see photos).