Agua Fresca de Melon (Watermelon Sparkling Water)
Thorsten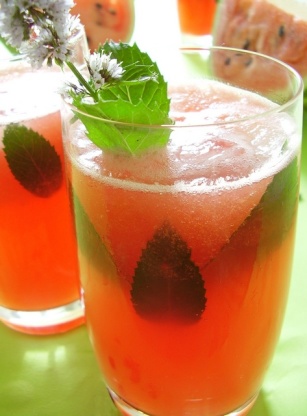 A beautiful licuado from Mexico guaranteed to quench the summertime heat. From The Border Cookbook as published in our local paper. Cook time is chilling time.

What a delicious and refreshing combination of water melon and mint. And the colour of this beverage is a highlight as well. Put a fresh mint leaf into each glas to have a wonderful colour contrast. The mint flavor goes very well together with the fruity sweetness of the melon. Try this recipe to beat the heat on a hot summer day.
Whirl melon in blender in batches, adding mint leaves to one of the batches.
Pour puree into large pitcher, stir in sparkling water and add sugar to taste (perfectly ripened melon should not require any).
Chill at least one hour.
Pour over ice in tall glasses and garnish with mint sprig.