Agua De Sandia (Watermelon Beverage)
Kim D.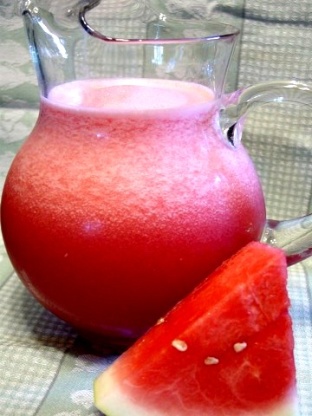 My DH is from Mexico and this is a staple there on hot days. The first time I tried it I was hooked (didn't even get sick from the water...lol). This is a great change for those hot days, just drink and enjoy.

I saw a comment that they didn't like the texture, a step this recipe missed was to strain the pulp after blending so you get pure liquid. What I was taught to do was to simply get a small strainer and place on jar as you put the liquid occasionally remove pulp and you will have Agua de Sandra. Other wise it's delicious.
Remove rind from watermelon, and cut into chunks.
In batches, blend water, sugar, watermelon and ice in a blender.
Pour into a large pitcher.