Rita1652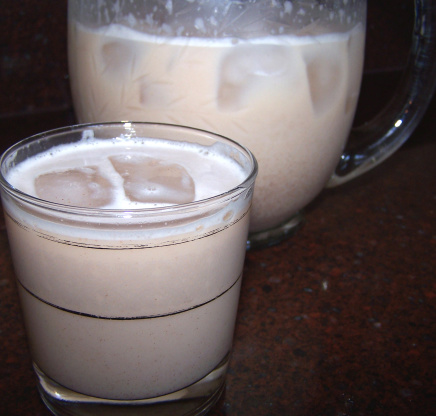 This Horchata is the kind that is served in "neverias" or ice-cream shops in Mexico. It is creamy and easy to do. Grinding the rice twice brings out all the starch and flavor. Prep time is the time needed for the rice to soak. One reviewer stated that I don't know what I'm talking about and that the rice should be soaked overnight...if you choose to soak it longer, the result will be the same and you will still need to strain it as stated---twice. I do know what I'm talking about: I'm Mexican and live in Mexico.

Thank you for posting! I have been craving horchata and made this up today. Loved it. It was satisfying and delicious. The person who said it was gross is the one that doesn't know what their talking about. I used 2% milk and sugar, as suggested in the recipe and it turned out great! This will definitely be a recipe I turn to whenever I have that craving again.
Rinse the rice in a colander. Place in a blender and add enough water to cover by an inch; soak 5 or 10 minutes. Add the vanilla and cinnamon and blend until finely ground. Drain the liquid through colander into a pitcher.
Return the ground rice to the blender. Add the condensed milk and about 2 cups water and blend again. Drain into the pitcher. Discard any remaining rice.
Add more water to the pitcher, one cup at a time, until it has the right amount of sweetness for you. Add ice and serve cold.
Note: you can add 1 cup sugar or so and 1 cup milk, instead of the sweetened condensed milk . I suppose you could use rice or even soy milk, but I haven't tried it.