Aginares Latheres: Artichokes With Vegetables (Vegan)
awalde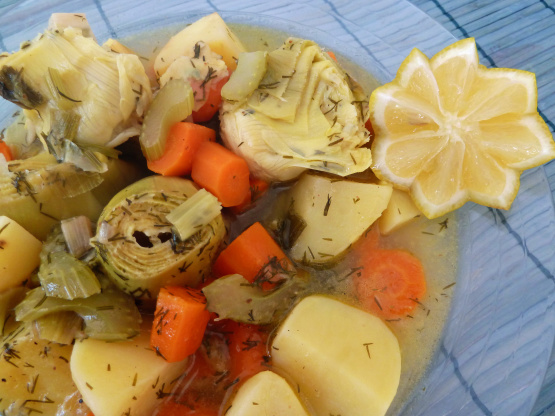 Artichokes with vegetables in a lemon-dill sauce Aginares Latheres pronounsed ahg-kee-NAH-rehs lah-theh-RES. Artichokes are very popular in Greece. This recipe combines them with dill and lemon. If you can't get fresh artichokes you can substitute frozen artichoke hearts but make sure there are no additives such as salt in them. Defrost before using. Recipe is from about.com

Top Review by awalde
Thanks a lot for this tasty Artichokes version. As I took this I knew that this would be great as from Greece I knew "anginares a la polita" who is very similar.
The balance of the vegetables was perfect and the lemon taste delicious.
I did not get fresh artichokes and I had to use the other ones, but despite this it was a fantastic main dish for us. Enjoy this dish with the rich sauce simply with bread!
Yummy vegan dish!
Clean the artichokes by removing the coarse outer leaves and stem, cutting off the top (down to just above the choke) and scooping out the choke with a spoon.
Trim off remaining leaves around the sides to leave just the pale colored heart.
Rub the artichoke hearts with lemon as soon as each is cleaned and place immediately in a bowl of cold water with half the lemon juice (to prevent them from turning black) and set aside until ready to use.
In a large pot, lightly sauté the onions in the oil until they soften.
Add carrots and potatoes and continue to sauté for a few minutes more. Add the artichoke hearts, dill, celery, salt, and pepper, and stir.
Mix the remaining lemon juice with 1/2 cup of water and flour until smooth, and pour into the pot, stirring until well mixed inches
Add the remaining water to cover the vegetables, and bring to a boil.
Cover, reduce heat, and cook over low heat for about one hour until potatoes and carrots are done.
Serve hot, warm, or at room temperature, with additional lemon on the side.