Agave Oatmeal Raisin Flax Cookies
Cathie63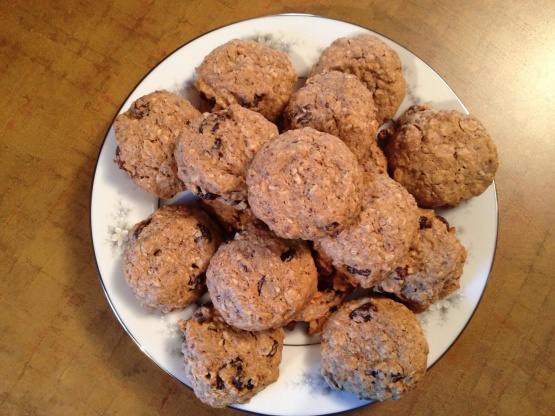 Amazing sugar-free cookies that taste great and are made with whole wheat flour. Kids love these and they are perfect for teaching healthy eating. They are also vegan.

Top Review by sprue
these tasted pretty good. a little sweet. i think 3/4 cup agave is a bit much. also there is no oatmeal in the recipe, only in the title. i subbed 1 cup of the flour for oats and added vanilla and walnuts. but other than that they are a great sugar free cookie and pretty healthy too. thanks
Preheat the oven to 325°F.
Mix together the margarine and agave nectar.
In a separate bowl, whisk together 2 Tablespoons flax seed meal with 4 Tablespoons of water. Add to margarine/agave.
Add in remaining dry ingredients: 1/2 cup flax seed meal, whole wheat pastry flour, vanilla extract, ground cinnamon, baking soda, sea salt.
Mix in oats then raisins on low.
Measure about 1/4 cup of cookie dough (I use an ice cream scoop) per cookie onto ungreased cookie sheets and flatten slightly. Cookies do not spread much so you can bake them rather close together.
Bake for 12-14 minutes until the edges are slightly browned.