gailanng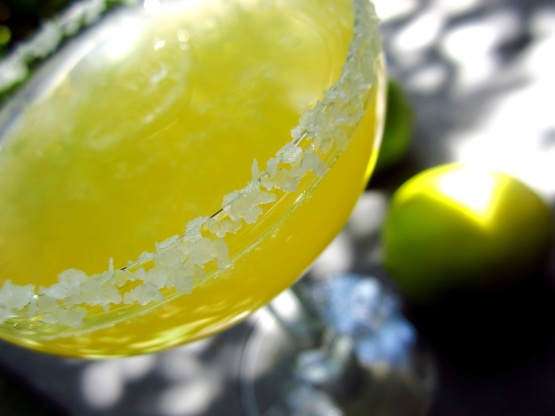 This triple sec-free recipe was inspired by one from Tommy's Mexican Restaurant in San Francisco. Just remember, fresh is best - See variations at end of instructions! Try one or make them all! Taken from Bon Appetit May '12.
Nice and super easy recipe! Was a nice change up from the bottle mix. Too bad lime prices have sky rocketed from .25 to .70 for a small lime. Either way, fresh is best! I used Lunazul Blanco (Silver) tequila which is ~$20 and is pretty good and smooth for the money. Overall it's a great recipe and will be adding this to the bar rotation. I might try a float of Grand Marnier on the next batch I make. Thanks for sharing!
1⁄4 cup tequila, blanco (silver)

2

tablespoons agave syrup (nectar)

2

tablespoons fresh lime juice
Pour some kosher salt into a small dish; rub 1 lime slice over half the rim of an Old Fashioned glass (if you prefer your Margarita on the rocks) or a coupe glass (if you prefer it up). Dip rim of glass into salt.
Combine tequila, agave syrup, and juice in a cocktail shaker; fill with ice and shake well.
Strain into prepared glass. Garnish with second lime slice.
DIFFERENT VARIATIONS -.
Fruity: Muddle 3 blackberries with agave syrup in a cocktail shaker until berries are lightly crushed and juices are released. Continue with above recipe.
Spicy: Muddle 2 thin rounds of jalapeno with agave syrup in a cocktail shaker until peppers begin to fall apart. For a less-spicy version, remove the seeds first. Continue with above recipe.
Bright: Steep 1 hibiscus teabag or 1 teaspoons dried hibiscus flowers with 4 oz. of hot water for 10 minutes. Discard tea bag/flowers and let tea cool. Gently spoon some tea OVER margarita, forming a red layer on top. (STUNNING!).