Agave-Lime Sweet Potato Fries
gailanng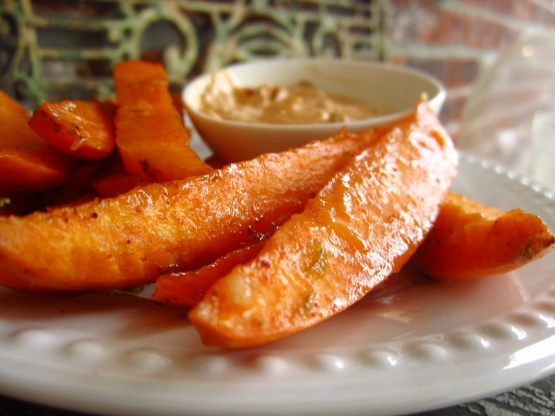 Sweet potato fries sweetened with agave, spiced with smoky chili powder and tinged with a hint of lime. These will not be a crispy fry. Oh, up the chili powder to 1/2 teaspoon if you're using a dipping sauce. I used French Fry Sauce along with 1/2 teaspoon chili powder and the sauce provided just the right balance of heat and cooling.
Preheat oven to 375 degrees F.
Peel sweet potatoes. Cut the sweet potatoes into 1/2 inch to 3/4 inch slices.
In a bowl, using a spatula mix the minced garlic, olive oil, salt, agave nectar, lime zest and chipotle or ancho powder together.
Add sweet potato fries to bowl and with the same spatula toss to evenly coat.
Place coated sweet potato fries in a single layer on a foil or parchment-lined baking sheet (it's not necessary to grease). Bake for 10 minutes.
After 10 minutes, carefully flip sweet potato fries. Cook an additional 10-15 minutes or until fries are done.