Rita1652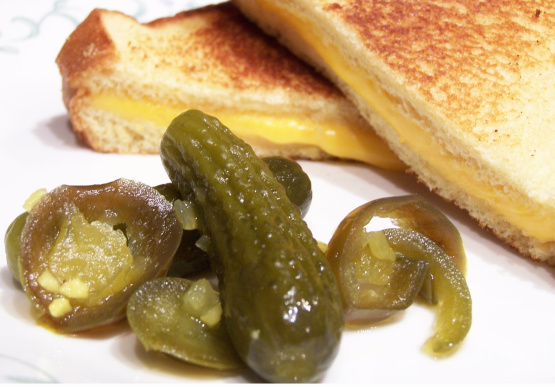 This recipe is from the sister-in-law of a friend of my mother's. Really. The friend brought them to a meeting we went to and people started raving about them. I hesitated because I am not that fond of jalapenos. And then my mother made some. And I tried them. Oh MY! Your Mileage May Vary on the ingredients. These are really good with swiss cheese on rye.

A very easy fun recipe to put together. I used Polish Petite dill pickles 46 ounces which is about 1/4 of a gallon. Then I used 24 ounces of sliced jalapenos, and 3 1/2 cups of sugar. One cup was 6 ounces when I weighted it. Don`t be afraid to press the ingredients as you layer to remove air bubbles. I managed to used the same jar the pickles came in. Which is why I only used only 21 ounces of sugar, that is all I could get into the jar. Besides it`s a lot of sugar!!! I did add sugar in layers but then topped with as much as I can get in. Pushing the ingredients down to absorb the juice that came from layering. I`ll be back with a star rating. My husband is not going to last 3 days!!!! OK we had this tonight! My DH loved the heat but was not fond of the sweetness. I myself like the sweetness and the heat was good as well. Thanks!
1

gallon dill pickle (in a big glass or plastic jar)

2

(16 ounce) jars pickled jalapeno peppers

5

lbs sugar
Take all the pickles out of the jar. Pour out the juice. Slice up the pickles.
You just layer it: pickles, sugar, and then jalapenos. You use almost the whole bag of sugar. Fill the jar back up with the layers.
Cover and sit on your counter. About every 3 days flip it over. My mom's friend left it out for 3 weeks. That's it. Pretty easy.