Afterburner Petite Dill Pickles
Rita1652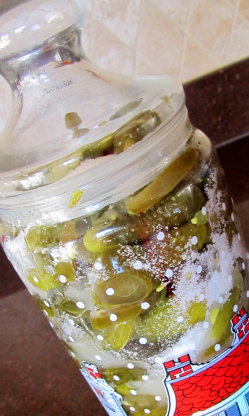 These are sweet and then you get hit with heat! I posted these because I have many requests for the recipe. No canning needed! This is a very easy cheat recipe! A take off of Afterburner Pickles, using a lot less sugar! You are more then welcome to add more sugar. You can also use the same jar the pickles came in being you discard the juice it should fit.

Top Review by JK1747
I have to admit, I expected to love these pickles. I wish I did. I guess the sugar should have given me a clue that they really weren't hot and spicy but sweet sweet sweet and spicy. I really don't like sweet picked so did a slight adjustment to the recipe... 32oz petite dills, 2/3 of a 12oz jar of jalape
12

ounces sliced pickled jalapeno chilies

46

ounces petite dill pickles or 46 ounces gherkins

1

cup sugar
In a large colander drain and mix the pickles and jalapenos. Discard juice.
In a large jar layer 1/4 of the pickle and jalapenos with 1/4 of the sugar.
Packing down as you add the rest of the layers.
Refrigerate for at least 3 days. Giving it a shake whenever you go in the refrigerator.
It will release juice. Now watch it disappear.