diner524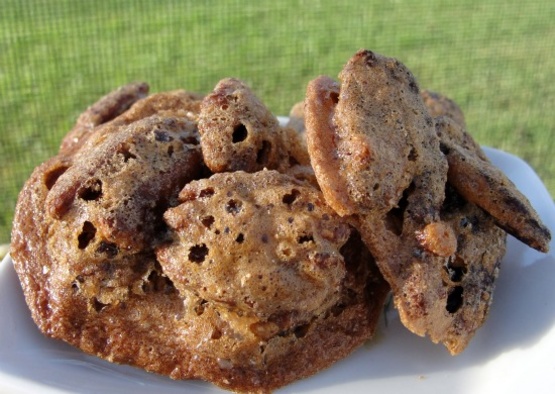 Found in "Count Our Blessings" cookbook. In the "olden" days young ladies made these cookies before they went to a dance. When thy returned home, the cookies were ready.
Wow, talk about easy to make, only 3 ingredients!!! I made 1/2 of the recipe and put them in the oven and followed as written, then took them out about 4-5 hours later. I used pecans and feel this is more of a candy/sugared pecans than a cookie, but still tasty and so easy. Thanks for sharing the recipe. Congrats on your 2nd win in the football pool.
Mix all ingredients together.
Cover cookie sheet with foil.
Drop by teaspoonful onto foil.
Put in preheated 400 degree oven.
Turn oven off when you put the cookies inches.
Leave cookies in oven for 3 or 4 hours or overnight.
Do not peek!
Peel cookies off foil and store in cookie tin.