Ms B.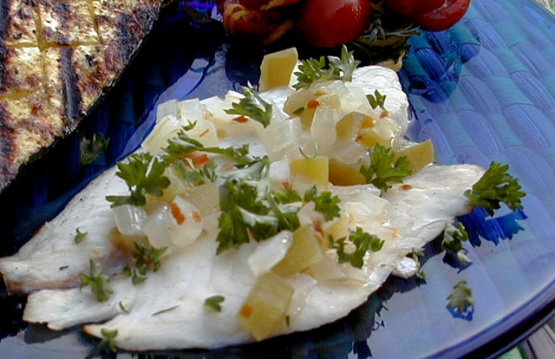 This marinated Tilapia is grilled hot while basted in the marinade to give it lots of extra flavor. It's a favorite around my room mates!

This recipe tasted very good and was well recieved by the entire family. I made a couple changes to the recipe. I didn't have an onion so I used onion powder and it worked great. I also used red bell pepper which is sweeter and it was delicious. Finally, I reduced the oil to 1/4 cup because I didn't want oily sauce poured over the fish to keep it more healthy. We had ample sauce to marinate and for eating. Thanks for the recipe. We will do it again.
Combine all ingredients except for the tilapia.
Mix well until the salt is disolved.
Place tilapia in a glass dish and cover with marinade.
Turn to coat and set aside for 20 minutes. Preheat grill.
Pour marinade into a saucepan and bring to a boil.Allow to cool.
Grill tilapia fillets of a medium high heat for about 4 to 5 minutes per side or until the fish flakes easily and has an even appearance all the way through.
Serve by pouring a small amount of the sauce over the tilapia fillets.