African-Style Shish Kebab
diner524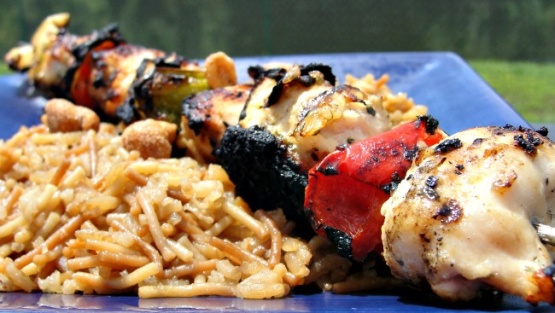 A fun twist on your average shishkebab. The recipe calls for the use of either lamb or beef. I think it may also be good on chicken. Serve with rice. Enjoy! Note: the timing does not include marinating.

So incredibly good and so easy to put together. Loved the flavors and I used some beef vs. lamb. Layered the kabobs with red onion, cherry tomatoes and some zucchini squash. Also used mushrooms and red bell peppers. Will be making often this summer.
Combine yogurt, lemon juice, olive oil, onion, mint,.
cilantro, salt, pepper and cayenne pepper in large bowl. Add.
meat to marinade; refrigerate 4 to 5 hours for lamb, overnight.
for beef.
Remove from refrigerator 2 hours before cooking.
Just before cooking, arrange meat on skewers alternately with.
tomatoes, green peppers, onions and mushrooms. Place on grill.
3 inches above coals, which should be red hot but not flaming.
Cook 5 minutes on each side, turning skewers to brown meat.
evenly.
I recommend serving with rice.