Annacia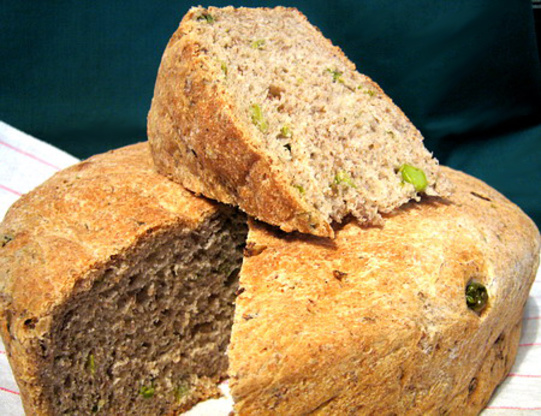 This is an unusual ABM recipe that has spices, ground beef and onion mixed right into the bread. From the bread machine list on Yahoo.

I'm so glad that I tried this, I love it and could make a full meal on it. I upped the recipe size to 1 1/2 loaves and I'm so glad that I did, I got big beautiful loaf of goodness. I used 2 cups of unbleached and 1 cup of whole wheat flours. The seasoning is fantastic, I didn't have any cardamom but I can't imagine that it could be much better with it. Mine does some "grit" that might be from some gristle in my beef that was ground small. That certainly isn't keeping me from rating this unusual, easy and yummy bread at 5 stars. *EDIT*~ the "grit" I spoke of is the burger which the bread machine ground into sand like size by adding it at the beginning. When next I make this I'll add the cooked burger at the machines beep for add in's along with the peas.
In a large skillet, preferably non stick, cook the beef, stirring to break up lumps of meat, until no longer pink, 3 to 5 minutes.
Add the onion and garlic and cook until the onion is softened, 3 to 5 minutes longer. Let cool.
Add the cooled beef mixture and all remaining ingredient except the peas in the order suggested by your bread manual and process on the basic bread cycle according to the manufacturer' s directions.
At the beeper (or at the end of the first kneading in the Panasonic or National), add the still frozen peas.
Eat warm or cool, cut into wedges instead of slices.
Makes a 1 lb loaf.