KristinV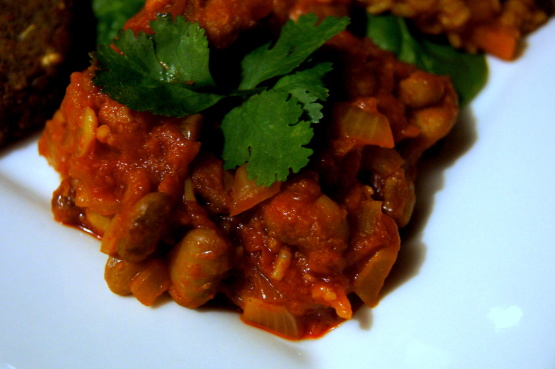 This is a great bean recipe, with it's origins in Africa. I really love the layers of flavor. The original recipe called for 1/2 Cup of peanut oil, but I just reduced it to 1/4 Cup, which I think is plenty. You can always cook the beans longer if they are not tender enough. Recipe by chef Angela Shelf Medearis. *Cook time does not include the overnight soaking of beans.

These are one of my favorite discoveries this summer! I will use the recipe again which is always a sign of a hit. I cooked the pinto beans in a crockpot and cut back on the oil. The flavors in the beans is different yet familiar enough to be a hit with the whole family. They are well seasoned, but not spicy hot. I used the leftovers to make bean dip the next day. Thank you for sharing the recipe!
Soak the beans overnight in 2 quarts of water. OR you could quick soak them by putting the beans into a heavy pot and cover with 2 quarts of water, bring to a boil and boil for 2 to 3 minutes. Remove the pot from the heat and let the beans soak, uncovered for 1 hour.
Bring the pot of soaked beans to a boil, then reduce the heat to low. Add 1/4 C of the onion and simmer, partly covered, about 1 hour, or until the beans are tender but not mushy. Drain the beans and set them aside.
In a large skillet, heat the oil until it is hot but not smoking. Saute the remaining cup of onions until soft and translucent but not brown. Add the tomatoes, tomato paste, garlic, cayenne pepper, white pepper and salt. Stirring frequently, simmer the mixture until most of the liquid has evaporated. Stir in the beans and cook, uncovered, for about 5 to 10 minutes, stirring frequently.